Keeping in Touch Isn't Getting Easier - telecommunication services and equipment update - Product Announcement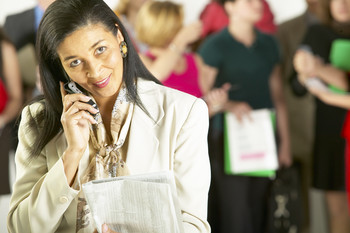 With more and more telecom gadgets from which to choose, staying in front of the wave gets to be complicated. Here's an update.
SO YOU THOUGHT A CELLULAR phone was the cutting edge of business communications. Think again. Whether you're looking to get in touch with your office -- or maybe your virtual office -- stay abreast of the markets or just keep your calendar and other schedules current, you have probably more options than you really care to wade through. But if you don't wade through them, you might end up paying a lot more and getting a lot less.
The variety in the personal communications systems available today is a lot like a mountain meadow of wildflowers after a summer afternoon rain: Just take a little time to look around and you'll find about anything you want -- and in about any shape, size and color.
If you spend a lot of time out away from your office but need to keep in touch, maybe all you need is a cellular phone. If you have frequent appointments during the day, you might need a hand-held computer or notebook. Or you might need to retrieve information while you're out and about, so maybe you need a way to access the Internet. And there might be times when the sound of a PCS gadget summoning you would not be proper, so maybe you need one that vibrates or flashes.
You can find any one of those kinds of gadgets in electronics stores, newspaper ads, radio and television commercials, telemarketing calls, bill boards, e-ads on Internet sites, junk mail, catalogs and lots of other places. They are so pervasive, in fact, that it's a wonder the Girl Scouts or Boy Scouts and your local high school band members aren't peddling them door-to-door like candy or oranges or raffle tickets.
And once you decide on the device, you're still not ready to reach out and touch the rest of the wireless world. You need to choose a communications company -- Sprint, AT&T, VoiceStream, etc. -- and then pick a level of service, options, payment plan and whatever else you need to be tuned in. The possibilities are dazzling.
Even the companies besieging you with daily offers acknowledge the vastness of the technology. Verizon Wireless, for example.
Verizon emerged last year from the merger of Bell Atlantic Mobile, Air-Touch Cellular and PrimeCo, and announced that it was "an entirely new kind of wireless communications company." Whatever kind of wireless communications company it is, it is certainly one of the largest, ranking 10th on Fortune magazine's list of the top 500 U.S. companies, and offering a variety of services to its nearly 28 million domestic wireless customers in 31 states -- including New Mexico -- the District of Columbia and Puerto Rico. It does business of one kind or another in 40 countries in the Americas, Europe, Asia and the Pacific, including local and long distance cellular phone service, high-speed data connections and video transmission.
Also well known in New Mexico is Qwest, a late 1990s startup company that last year bought US West in a $47 billion deal. Qwest was launched by reclusive billionaire Philip Anschutz to build a 25,500-mile North American fiber-optic network. Finished in February, the network offers traditional long distance, wireless and high-speed Internet services in the 150 cities it connects.
Both Verizon and Qwest offer DSL -- Digital Subscriber Line -- the technology that supplies dedicated, ultra-fast Internet access service that allows you to talk on the phone and access the Web at the same time, using a single, existing copper phone line. It enables instant Web access with no "dialing-up" or busy signals. Unlike cable modems, DSL is a dedicated local connection between you and your Internet service provider (ISP).
There's not just a single DSL, although the varieties -- and speeds -- differ from provider to provider and not all are available in all locations.
* VDSL (Very-High-Rate) is a high speed technology, but has a very limited range.
As in all high-tech applications, the process of answering one question often raises two or more -- as in "what are ISDN, PBX and T-l" connections? Just as in DSL, their properties will vary from provider to provider, and they are best left to be explained when you actually look into service.
Similarly, calling local offices or researching PCS options on the Inter net are likely to provide little generic information. You will need to provide specific information, such as the name of your business, addresses, phone/fax numbers, e-mail addresses, and other data that lets providers categorize your business.
Verizon and Qwest both offer DSL service in New Mexico, but trying to compare them from a purely informational standpoint is like comparing apples and zebras. Verizon's web site, for example, offers a couple of DSL options, ranging in price from $39.95 to $92.95, but getting any pricing from Qwest's web site is more difficult.
Qwest announces that it offers DSL service in Albuquerque, Gallup, Las Cruces, Los Alamos and Santa Fe, but finding a cost -- or range of costs -- is more elusive. It offers special deals, with the come-on of saving this or that amount, but never reveals exactly how much you'll pay for a specific kind of service.
While Verizon and Qwest are promoting DSL connections, Sprint is pushing a next-generation service that's not even on the market yet. With its Third Generation - or 3G technology, "you'll be able to have a desktop experience in the palm of your hand," according to its promotional campaign.
"Imagine," it says, "having a wireless phone with a color screen that could one day transfer video and photographs and download music at faster speeds without compromising battery life." The first phase of this new technology, to be launched late this year or early in 2002, will include innovations such as:
* Up to double the voice capacity of the network.
* Up to a 10-fold data speed increase, from 14.4 kbps to 144 kbps (a thousand bits per second).
* A nearly 50-percent increase in battery life of a wireless phone in standby mode.
AT&T offers its OmniSky wireless data acquisition service for $39.95 a month, with some variations in price for time-certain contracts. It is available in a number of major U.S. cities, but for New Mexicans only in Albuquerque and Las Cruces. (The service is also available in El Paso.)
The company says the possibilities are endless, but offers the finite examples of:
* E-mail availability
* On-line shopping
* Driving directions or traffic conditions
* Flight and hotel reservations
* Stock trading
* News and sports scores
* Movie tickets and dinner reservations
There is a wide variety of equipment to choose from, including cellular phones, Palms and handheld computers, and the differences between these and other devices used to access the array of services available are growing less and less distinct. Where a handheld computer might have a somewhat larger screen, for example, a very small Tri-Mode cellular phone will have the same capabilities of the computer, even though they are not as easy to access because of the size of the instrument itself.
A Tri-Mode instrument is what you'll get if you want Web access and nationwide, anytime, no-roaming, no-long-distance charges service. Dual-Mode phones offer you fewer access choices. The cellular world also offers the choice of analog or digital service, or both.
The handsets themselves are manufactured by a number of electronics companies. Verizon offers Audiovox, Kyocera, Motorola, Nokia and LGIC phones, for example. VoiceStream offers Motorola, Nokia and Ericsson, and Sprint offers Kyocera, Motorola, Qualcomm, Samsung, Sanyo, Sony and Sprint PCS. There are many other manufacturers, too, offering cellular phones and other devices to plug you in with the wireless world.
And this doesn't even consider the growing direct satellite communications service, which allows you access from literally any point on the globe to any other point where someone or some organization has a satellite communications system. That's a whole different world.
The bottom line is: You can reach out and touch almost any corner of the world today -- to chat work, learn or retrieve things from the nearly unimaginable volume of information available on the World Wide Web. And you can have it your own way; your choice of instrument, service provider, breadth of service, available time and cost.
It's a far cry from the old Ma Bell -- or maybe today she should be thought of as Grandma Bell. It was simpler then, when you simply called up the phone company and said, "I want service," and the phone company connected you and gave you a telephone set and said, "Call us if you have problems."
It's not nearly that easy. But, then, we're all doing more than just talking on the phone today: We're living, working and entertaining ourselves in a cyberworld, and the old black handset with a thick cord plugged into the wall just won't do anymore.