Family CONNECTIONS - telecommunication services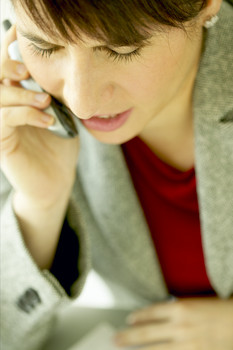 Until Americans can get all their telecom services in one neat package, families like the Harrisons are piecing together their own network.
With the Harrisons, you won't get away with the excuse that you tried to call. The Richardson, Tex., family has two home phone lines and four mobile phones. They have caller ID. They have call waiting. And then there are the nearly half-dozen lines coming into their home office to service callers, faxes and modems. If all else fails, you can ring their pagers.
Harry and Melissa Harrison, who work together as creative consultants for advertising clients, are wired all the time. Their kids are, too. Sage, 20, and his brother, Field, 18, get the upstairs line when they're home. Pagers and wireless phones keep them in touch when they're away.
Melissa keeps tabs on this web of phone connections--which yields pages and pages of phone bills each month. A recent bill for local and long-distance service on their two home lines ran to $146. One cell-phone bill was $282 for the month and another was $136. Three pagers added $134 to the tally. And that's not even counting the lines that come into their home office.
While the Harrisons have more phone numbers than most families, they're a prime example of how the crazy quilt of telecommunications services that has been pieced together in the past decade has left consumers with a confusing array of prices and service plans--and monthly bills. It's par for the course to have one company for your local phone service, another for long distance, yet another for wireless calls, a fourth for Internet access and a fifth for pagers. Add IV to the list, too, because the struggle for your telecommunications business is migrating beyond copper wire to cable and satellite. (For ways investors can cash in, see "Riding the Telecom Phenom," on page 92.)
Short term, expect the choices to get even more confusing as the Baby Bells open up their networks to competitors, which in turn will let the Bells compete in the lucrative long-distance markets. Because the Baby Bells control a crucial link--phone service directly to your house--opening up the local phone company to competition should lead not only to lower prices but also to the ability to bundle all your telecom services with one company. Some companies, notably AT&T, are choosing to bypass the local phone company altogether and find a different route into your home. AT&T's aggressive acquisition of cable lines to sell local and long-distance service as well as Internet access promises to add a much-needed dose of one-stop-shopping simplicity.
At the same time, new telecom technology is converging in ever-smaller wireless packages. Some wireless phones now double as pagers, Internet browsers and organizers (the photo spread on page 90 highlights some of the cutting-edge wireless phones that are now hitting the market).
Until full-fledged competition makes the choices a little simpler and cheaper, families like the Harrisons will continue to cobble together their own telecommunications system to stay in touch while trying to keep the bills from hitting the stratosphere. The boxes on these pages have cost-cutting strategies you may be able to apply to your family's telecom network.
THE FAMILY NETWORK
The Harrisons pared down the most expensive part of their local phone bill--in-state long-distance calls--with a Texas-size helping of cell-phone minutes from Southwestern Bell. Now they have 1,500 minutes of wireless calling they can use anytime, anywhere in the Lone Star State for $75 a month. Harry, whose clients are scattered across the state, racks up the most minutes. Compared with the $400 to $500 monthly cell-phone bills he used to run up, it's a bargain.
Harry shares the line with Sage, who just finished his sophomore year at Texas Christian University, in Fort Worth. During Sage's first month at college, he ran up a $300 phone bill calling his girlfriend in Dallas, about 30 miles away. Sage is now under Dad's orders to use only the cell phone to make nonlocal calls inside Texas. The 1,500 minutes are already paid for, so the best strategy is to use as many of them as possible.
Each family member has his or her own wireless phone, and Harry pays an extra $20 per month so he and Sage can share the big-minute calling plan. Sharing is easy: They rarely need to get on the line at the same time. "A college student, by definition, is usually trolling the streets after nine o'clock at night, when I'm in," says Harry.
The Harrisons shop smart for calls beyond state lines, too: They pay 9 cents a minute anytime, anywhere in the U.S. outside of Texas with a small long-distance resale company, Coastal Telephone, based in Jacksonville, Fla. It costs the family less than half as much to dial anywhere in the U.S. outside of Texas as it does to call Fort Worth during the day.
Just in case they can't be reached any other way, the family maintains several pager accounts. The boys asked for pagers back when both were in high school. "It didn't dawn on them until six months later that this way I could keep track of them," says Harry. "If it's midnight and they're not in, I'm on the phone paging them."
Harry is playing with a cable modem for Internet access, at about $40 per month. "I'm enchanted by the technology," says Harry. "I like the possible download speeds; I do so much work online." But he's not happy with the service yet. "It just flat-ass quits working," he complains.
When Harry's two-year cell-phone deal with Southwestern Bell expires later this year, everything is up for reevaluation. Sage will dump his pager this fall and use a digital phone with caller ID and messaging, which lets him carry the phone silently to class. Harry may go digital and drop his pager, too. So far he's found digital to have too many dead spots across Texas to serve his needs. Eventually, however, once he's sure the technology is reliable enough, even the land lines coming into the house may go.
WHEN COMPETITION COMES A-CALLING
Competition may be coming, but not necessarily to you--at least not anytime soon. It all depends on how valuable you are to the phone company, and that's a function of how much you spend and where you live. Densely populated areas with plenty of businesses and high-volume residential customers will be the first to see the local phone company give ground.
That's why residents of New York City are enjoying the most competitive local market in the country. New Yorkers statewide already have one of the most competitive phone markets in the country, thanks to regulators in Albany, who have been aggressive in pushing for competition. Also, the local phone company, Bell Atlantic, is making a serious push to be the first of the Baby Bells to demonstrate that its markets are open enough to warrant its long-distance dessert.
Still, households in upstate New York have fewer options than residents in and around New York City, and their discounts are stingier, too. MCI WorldCom has been buying Bell Atlantic's service wholesale and reselling it at a discount to current customers in nearly all of New York State, but a package of 100 local calls is less in New York City--$14.99, versus $19.99 for upstaters. All customers can choose unlimited local calling for 5% off the Bell Atlantic rate; extra services are also 5% off.
New York City dwellers also have at least one other alternative. RCN Corp., a Princeton, N.J.-based company, is a good example of the breed of competitor that chooses to bypass the local phone company altogether. Its strategy is to partner with the local electric company and gain access to its rights-of-way on utility poles and underground conduits, using them to string RCN's own fiber-optic cable into homes.
Over that fiber-optic cable, RCN sells local phone service (at a 5% discount to Bell Atlantic's rates) and long-distance service at 9.9 cents per minute anytime, anywhere. Adding cable TV to the package garners a $3 discount off the $28-to-$31 monthly fee for basic cable service. RCN also sells unlimited high-speed Internet access via cable modem for $39.95 per month, including rental and free installation of the cable modem.
So far the service is being marketed in Manhattan, Boston and Washington, D.C. (under the Starpower brand), and some of their suburbs. By late this year RCN plans to offer service in San Francisco, the Silicon Valley and San Jose, Cal. The bad news: RCN has no desire to market to everyone. The company tends to run its multifunction fiber-optic lines only in the most densely populated markets, and has signed up condominium and apartment buildings in particular. It is also stringing its wires into single-family neighborhoods, but only if they are built densely enough to warrant the investment.
The risk when you switch from one local phone service to another is that the handoff won't go smoothly; a foul-up could leave you without a dial tone or with misdirected invoices.